The River Ribble
(The following information is taken from Wikipedia)
The River Ribble begins at the confluence of the Gayle Beck and Cam Beck near the famous viaduct at Ribblehead, in the shadow of the Yorkshire Three Peaks.
It is the only river rising in Yorkshire which flows westward. It flows through Settle, Clitheroe, Ribchester and Preston, before emptying into the Irish Sea between Lytham St. Annes and Southport, a length of 75 miles (121 km).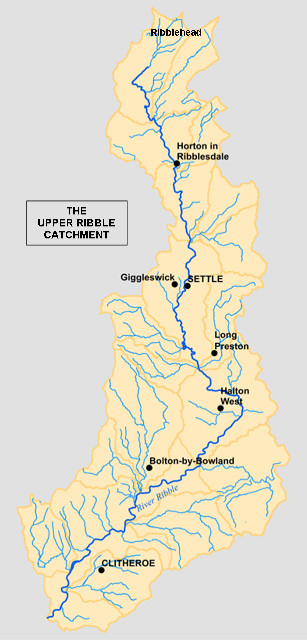 The main tributaries of the Ribble are the River Hodder and River Calder which join the river near Great Mitton, the River Darwen which joins at Walton-le-Dale and the River Douglas which joins near Hesketh Bank.
Above Hellifield the valley of the river is known as Ribblesdale.
The Ribble Way is a long-distance footpath that follows the river for much of its course.
The Ribble marked the northernmost extent of the ancient kingdom of Mercia. At the time of the Domesday Book, the river formed the northern boundary of an area of land (known as Inter Ripam et Mersam) that was included in the Domesday information for Cheshire, though it was probably not formally part of the county of Cheshire.
The river is connected to both the Leeds and Liverpool Canal and the Lancaster Canal (via the Ribble Link).
The river downstream of Preston was frequently dredged when Preston was an active port; this is no longer done and silt from the river is now spreading more widely over the (sand) beaches around Fairhaven and St. Annes.
Its 10 mile wide estuary forms part of the Ribble and Alt Estuaries Special Protection Area for wildlife. An average of 340,000 water birds over-winter in the estuary making it the most important wetland site in Britain. The Ribble is also a key breeding ground for the endangered Atlantic salmon.

Ribblehead Viaduct lies close to the source of the River Ribble
More information about the River Ribble can be found on the following websites: